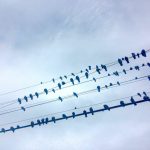 I love NLP, it's one of those tools you can pick up easily and use it in everyday life. It can be used very effectively for one to one therapy (No need for Hypnosis) but I also use it within groups and with Managers when Coaching.
What is NLP – Neuro-Linguistic  Programming?
NLP is:
A fantastic tool for communication

Practical and adaptable

A way to support you to change unwanted behaviours

Focused on positive outcomes

Exploration

Learning how we tick

Confidential (Content Free)

Fun and easy to use
It's how we use our minds to create the programmes/habits/behaviours that we have. When we know how and why we create habits we can then start to learn how we change them.
NLP was created in the 1970's by Richard Bandler (above with Amanda) and John Grinder amongst others. They looked at some of the great therapists of their time (modelling) including Hypnotherapists and developed strategies that would support people to change and grow.
NLP continues to be developed as new learning is incorporated and it remains flexible and adaptable in it's approach to supporting individuals.
NLP has many uses:
Therapy
Business Coaching
Motivation
Communication
Relationships, work or personal
Dealing with conflict
Phobias
Sports Performance Iwan Thomas with Richard Bandler
Research: An effective treatment for anxiety. Lisa Wake
a-critical-review-of-nlp-as-an-effective-for-individuals-with-depression-or-anxiety-lisa-wake_6_176
Please also look at LifeMOT CIC
Amanda is Director and trainer for LifeMOT Community Interest Company (CIC) which delivers Business Coaching and Training using NLP techniques. We have a range of Community Workshops on offer as well as supporting employees within the business place. EventBrite