It's been a really busy year so far which is brilliant. So many people are putting themselves first and taking some time out to work on positive change.
My positive changes so far this year have been to take part in Dry January and raise awareness of the work done by Alcohol Concern and to take the plunge and move my work space.
You'll now find me in the wonderful Jubilee Wharf. An Award winning eco-friendly creative space on Penryn River. Find out more here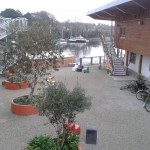 I'm settling in easily, helped out by Falmouth TM and Meditation Group  who came to visit on Wednesday and have a meditation. It's warmed the room up, so Thanks You to everyone who took part. I'm here on Thursday and Fridays, if I'm not delivering course days with LifeMOT, contact me on the usual numbers.