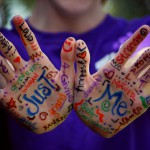 Are you happy in your own skin?
In my day to day life, I'm asking people to move outside their usual comfort zone as generally they are coming to see me to make some change in their life. Change is a good thing.
My role as a therapist is to support people to feel comfortable enough to make a move in the right direction. This move or change can start very slowly by imagining the change, or day dreaming what it might be like to….? This way our sub-conscious mind starts to get a feel for what it might be like to do something different or behave differently from what you are used to.
We all use our imaginations to think about situations but sometimes we veer off into a disaster movie image of a situation that has an adverse effect on us. My role is to teach people how to play the relevant movies in their minds that give them the results they are seeking.
I'd like you to learn to play with your imaginations again. Imagine what you'd like to do or how you'd like to spend your days, weeks, months… Develop who you are so that you can be happy being "Just Me" Who ever you are.